Cot or Cot Bed? Which Should I Choose?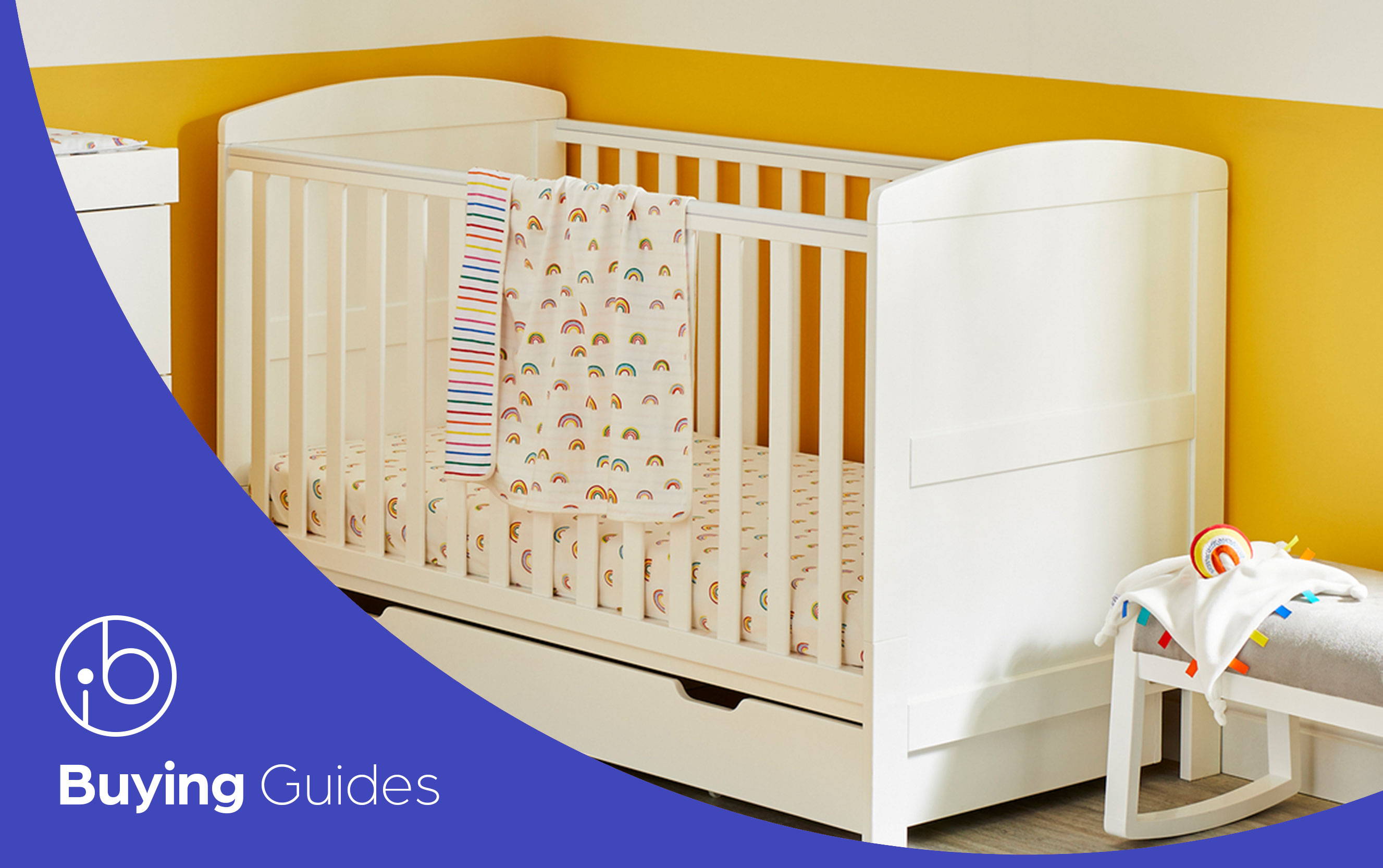 Creating the perfect sleep environment for your bubba is an important task – no doubt you'll want to encourage slumber as much as possible! Not only is comfort a big deal when shopping for a newborn cot, but safety and practicality should also be key factors to consider before you make your final purchase.
At Ickle Bubba, we want to help you understand the type of sleep products available, which includes highlighting the key differences between a cot and a cot bed. For instance, if you're looking for an infant bed that's not only cost-effective but will last for a longer period of time, a cot bed is actually the best choice here. But before you can make the best decision, let's get clear on exactly what kind of features and qualities to look out for…
Should I buy a cot or a cot bed?
A standard cot is typically compact in size and therefore a great go-to for smaller spaces. That being said, cots are generally only suitable to use from birth up until around 18 months. So if you're looking for an option that has more useful features as well as longevity, you might like to choose a cot bed instead. Especially since cot beds ultimately make a more practical choice when it comes to supporting your baby's sleep right through into toddlerhood.
Another great point to consider about cot beds is that they come in smaller versions too, which means you could try out a mini cot bed for size and not have your child's sleeping quarters take up too much additional space. We offer a stylish range of cot beds and mini cot beds, so you'll always be able to find the right choice for your baby's needs - without any fuss. Top Tip: In terms of nursery storage solutions, part of our Coleby range even includes an under drawer that slides underneath the cot bed. This feature has been added so you can neatly store away all of your baby's essential items ready for their next use. In smaller nurseries where space is at a premium, the under drawer offers a fantastic storage solution.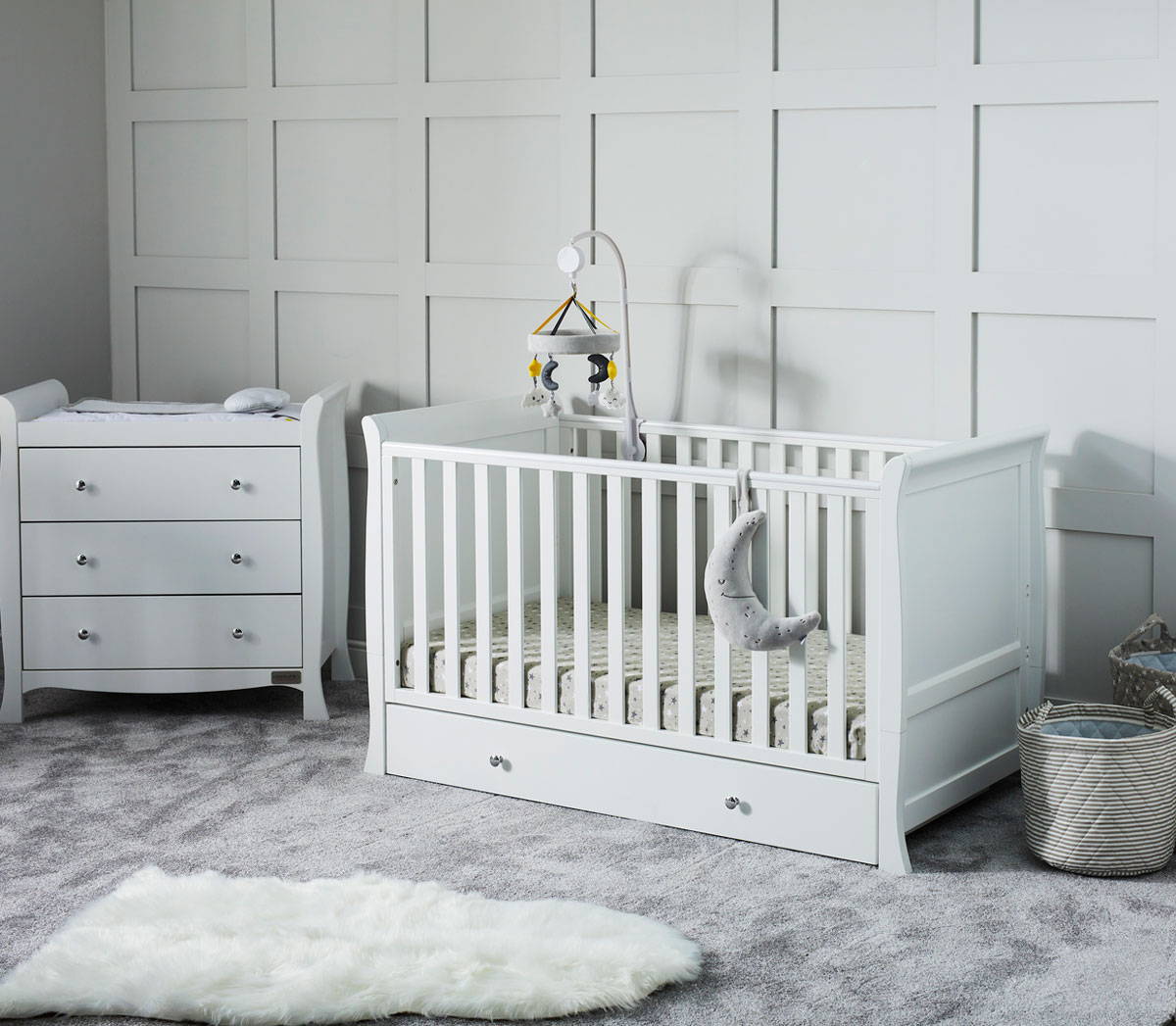 Should I choose a mini cot bed?
So let's talk about the advantages of the mini cot bed. Not only do these make a luxurious addition to any bedroom or nursery setup in that they're visually appealing, but mini cot beds also serve as an excellent space-saver. When your baby is born, it's recommended they sleep next to your bedside for the first 6 months, and this is to maximise their safety and comfort levels.
If you're looking for a super practical solution that helps to promote a sense of security when it's time for an afternoon nap or a full night's slumber, this can be achieved in a smaller space with the use of a mini cot bed. Generally speaking, the mini cot bed option will last up until your child is approximately 4 years old, which is perhaps why this is considered to be a much more viable option when compared to a regular cot that's not intended to last as long.
So if you're in need of an affordable bed for your baby, something that offers exceptional value for money plus all the benefits and features of a larger cot bed; the mini cot bed will certainly cater to such flexibility while saving you plenty of space. And you can easily move a product like our mini cot beds from your bedroom into your baby's nursery once they reach the 6 month development phase, without having to upgrade to a larger cot bed.
Why choose an adjustable cot bed?
Babies grow up fast, there's no escaping this fact! So it's always a good idea to plan ahead for their upcoming growth spurt with nursery products that are both purposeful and practical. Another advantage of choosing a modern nursery addition like a cot bed? It's all about the adjustable mattress base.
Your newborn will be safe in the cot's top position from birth to 6 months, at which point they can potentially move or roll and therefore the cot will need dropping to the second position. Then at approximately 12 months, the base should be put on the lowest setting until they can stand or climb, and moved to a bed. The top position will provide the safest position for them to be lifted in and out of their cot bed - without any unnecessary bending or strain on the spine. Do check out the Lullaby Trust website to familiarise yourself with advice regarding the best sleeping position for your bubba to significantly reduce the risk of SIDS (sudden infant death syndrome).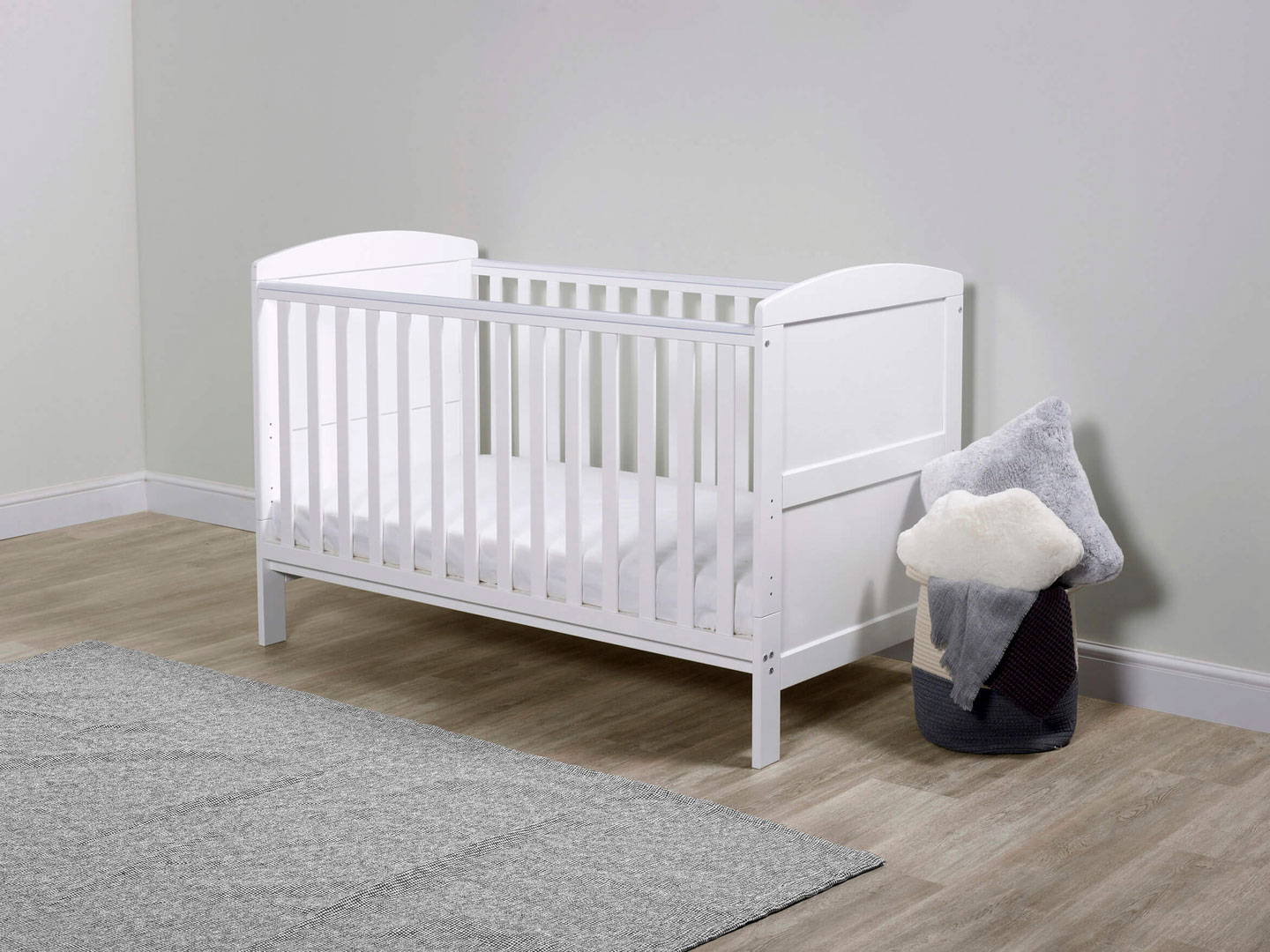 Once they've grown into toddler years and they now require a junior sized bed. you can convert your cot bed from 'cot mode' to 'bed mode'. The mattress base should be as low down to the ground as possible. If the height is not positioned correctly and the base is too high up, you would need to invest in a separate bed guard to ensure the safest possible sleeping environment. So always make sure that when shopping for a new cot bed, you go for a product with a fully adjustable 3-position base.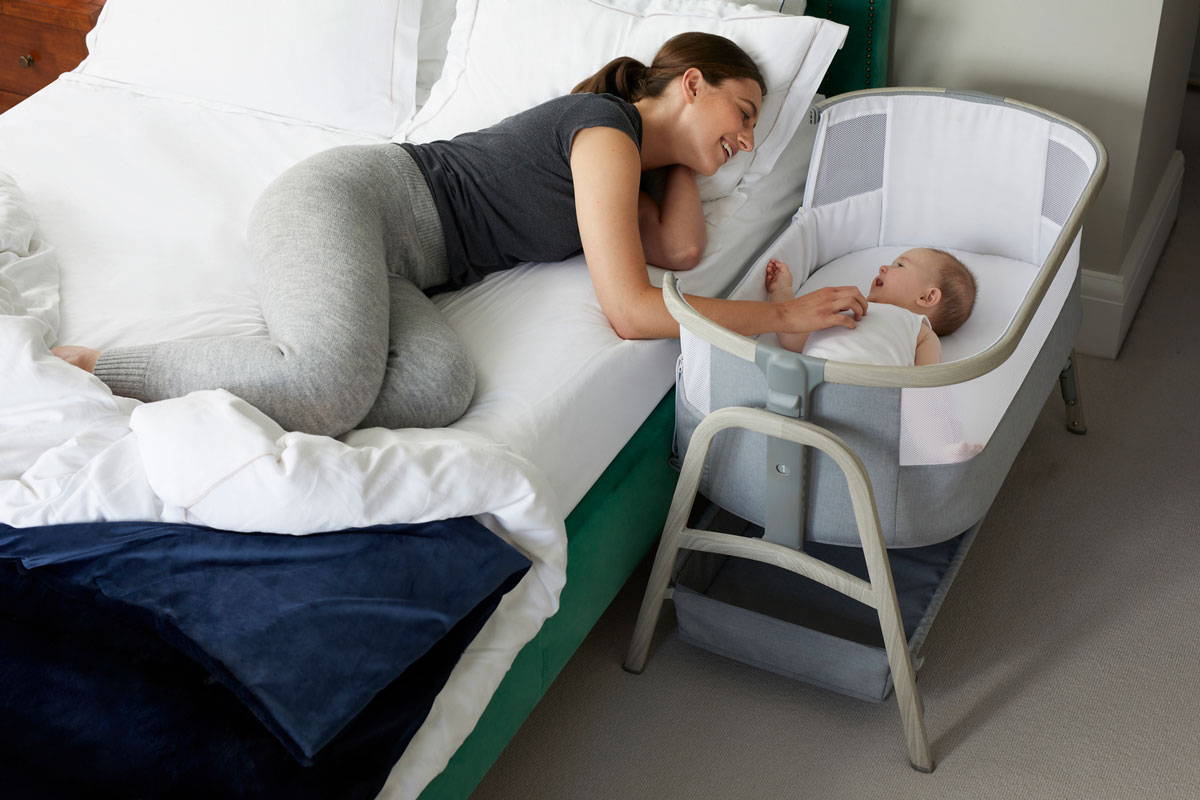 Should I go with a bedside crib?
All parents want to ensure they're building a strong bond with their child, and sleep is a great time to make that happen. By keeping your child closer during those early months, you can help to strengthen that connection with them. Some parents choose to co-sleep, which is when they sleep in your bed with you. However, this is widely regarded as a risky option by experts. A safer alternative to co-sleeping is bedside sleeping, which is when you attach a specially adjusted crib to a full-size double bed, so that you can sleep next to your child without the risks of them sharing the same bed.
Ickle Bubba released the Bubba&Me Bedside Crib to help with them. The mesh sides make it easy to keep an eye on your child and can be removed to make it easier to get to them for a nighttime feed. It secures to most standard double beds with adjustable straps and height positions. If you want baby to be as close as possible, then this is definitely the best option. The main thing to remember is that cribs only last baby until they're approximately six months old, so they don't have the longevity of a cot bed. As baby it is recommended to keep your child in your room for the first six months, then a bedside crib is a great way to do it that doesn't take up too much space.
Best cots and cot beds for a safe sleep
Here at Ickle Bubba we will always put your baby's safety first, and this is factored into all of our premium nursery furniture, including our cot beds, mini cot beds and space saver cots. That's why every cot bed we design conforms to the current European and UK standards EN716 & BS8509. This means each cot bed has been tested and approved with your child's sleep safety in mind. For instance, you'll find the distance between each bar measures between 2.5 - 5cm to ensure your baby can still grip the cot frame comfortably, but their delicate hands and feet remain inside the cot and free from getting caught between the bars.
When putting your cot bed together, you'll want to convert from 'cot mode' into a junior bed as soon as your little one is confidently standing and climbing. This signals they are ready to lose the sides of the cot bed and can now sleep in the lowest mattress base position. Top Tip: Also keep in mind that where your angel sleeps should never be substituted as a play pen, and this would need to be made as a separate purchase altogether.
So, there we go. Hopefully you have a better idea of the different between cots, cribs and cot beds and which one is the right choice for you. It's important to think about longevity and price, but ultimately, you need to make sure you're picking the option that best suits your needs. Think about whether you want to go with something smaller for the first few months and upgrade to a full-size option once baby's in their nursery or find something that ticks all boxes from day one.
Let us help! We have a wide range of cots, bedside cribs, cot beds, space saver cots and more, so shop our full nursery furniture range.