Staying Thrifty with a Little One
Interview with @thrifty_clair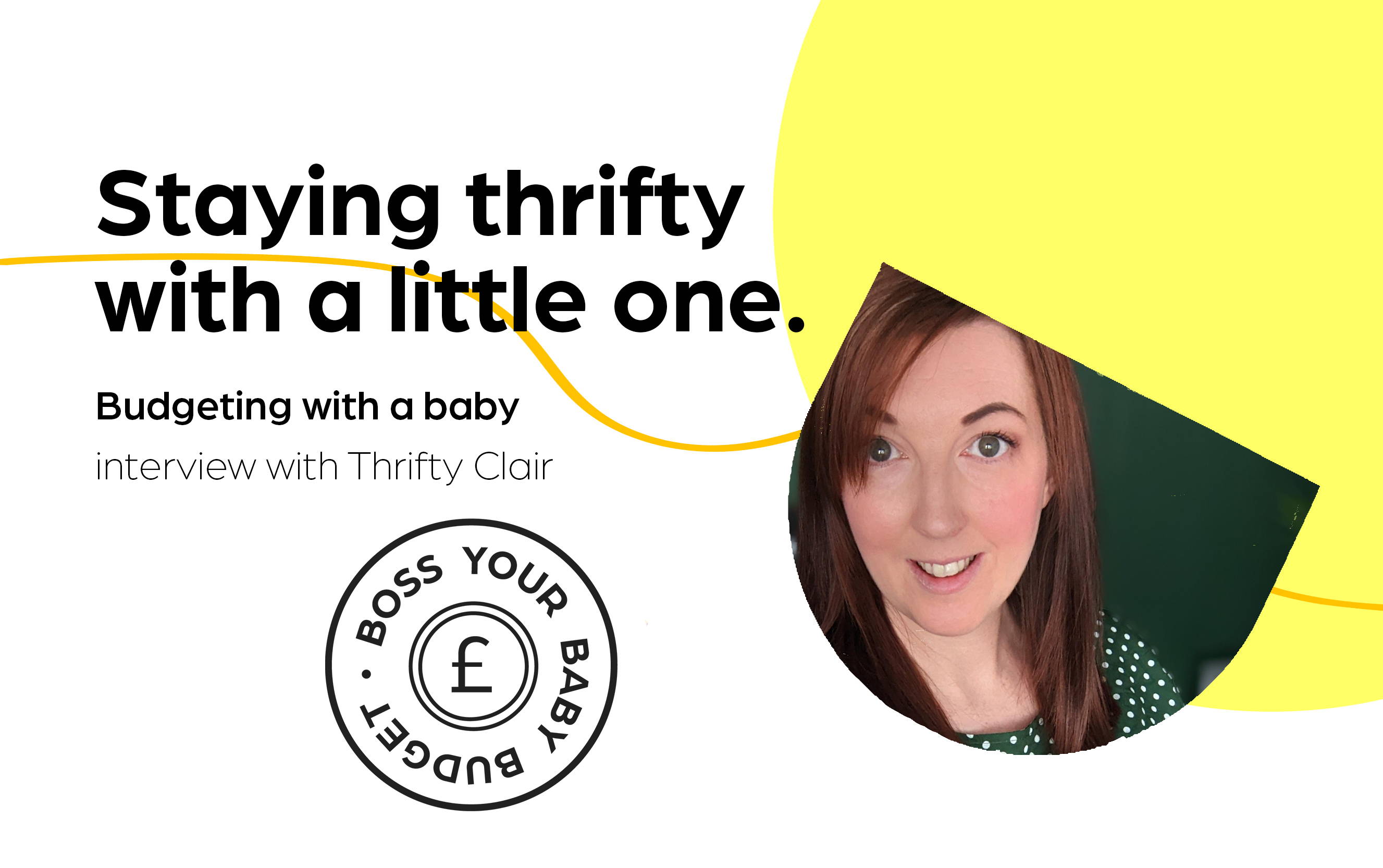 You might have seen that we recently launched a new campaign to help new and expectant parents make their money go that little bit further. Whether it's providing lots of affordable options, product bundles, easy payment methods or sound budgeting advice, we're doing all we can to help you stretch that baby budget as far as you can.
That's why we thought it would be great to talk to Thrifty Clair - a new mum and money influencer who is helping others to live a thrifty life with tips, tricks and ideas. So, why wait any longer? Let Clair give you the lowdown on how to prepare for a more cost-conscious parenthood...
What apps/if any would you recommend to parents looking to budget effectively?
Firstly, check what budgeting features (if any) you have on your online banking. Some banks will allow you to set up separate saving pots which make it easy and clear to budget for different things like essentials, clothing, nursery costs and so on.
If you don't have that option, there are a range of budgeting apps out there but it comes down to finding what works for you. I am a bit more old-school and like to have one savings pot and then I budget on paper. You could also set up a spreadsheet to keep track of spends.
What are your top 3 cost-saving websites you'd recommend?
Voucher codes, Topcashback and Hotukdeals are all handy for keeping track of potential offers and extra discounts. If I am making an online purchase - baby related or otherwise - I always check these sites first. Earning extra cashback or getting an extra deal on a planned purchase is a great way to get the most out of your money.
A good example is when I bought our nursery mural wallpaper. I noticed it had dropped in price due to a sale at Dunelm. Before checking out, I checked on Voucher Codes and Topcashback to see if there were any additional offers. In that instance, Voucher Codes had a free £10 Amazon voucher when making a purchase of £50 or more at Dunelm. I clicked through the link on Voucher Codes to track my purchase and placed my order as planned. It took just a couple of minutes to check the offers and meant I had £10 to spend on Amazon which went towards more items for the nursery.
Can you share your top 5 tips to help parents save for maternity/paternity leave?
1. Plan ahead as much as possible. We started saving around eighteen months before I fell pregnant. If you're unable to do that, adjust your budget to be more in line with mat pay as soon as possible, that way it is less of a shock and a more gradual transition onto a smaller budget.
2. Overpay things like utilities if you can, we did this to ease the burden of the rising costs in winter.
3. Look at ways of maximising your paid leave. Check if you're eligible for shared parental leave, if you accrue holidays and look into keeping in touch days. That can all help to maximise your pay during your time off.
4. Start buying one pack of wipes and nappies on each weekly/fortnightly shop. This small extra spend won't be too much extra on your shopping and it will help start a stockpile ready to use once the baby arrives.
5.Start to look into free baby groups and events in your area. Finding preloved baby sales, free parent and baby groups and baby buy and sell pages can help to ease the burden of some costs associated with a new baby.
Are there any grants/schemes you can share with others heading on maternity leave?
There are a range of grants and schemes available that start during pregnancy and others that you can claim once the baby is born. The best way to know what you're entitled to is to use the Gov.uk or MoneyHelper websites. These will give you the best indication of what you are eligible to claim.
One that everyone benefits from is free NHS prescriptions and dental care during pregnancy and a year after birth. You can usually claim your exemption certificate by filling in a form with your midwife at one of your first appointments.
You might be eligible for a Sure Start maternity grant. If you or your partner are in receipt of some sort of benefits, you could be eligible for a one-off payment of £500. This is known as the Best Start grant in Scotland and the amount payable can vary.
There is also the Healthy Start scheme which gives weekly payments onto a prepaid card to use towards things like formula, milk, vitamins and fruit and veg. Like the schemes above, you must be in receipt of some sort of benefit to be eligible.
Once the baby arrives you might be able to claim child benefit. Child benefit is payable if you and your partner each earn under £50,000 a year. You might also be eligible for child tax credit if in receipt of other benefits.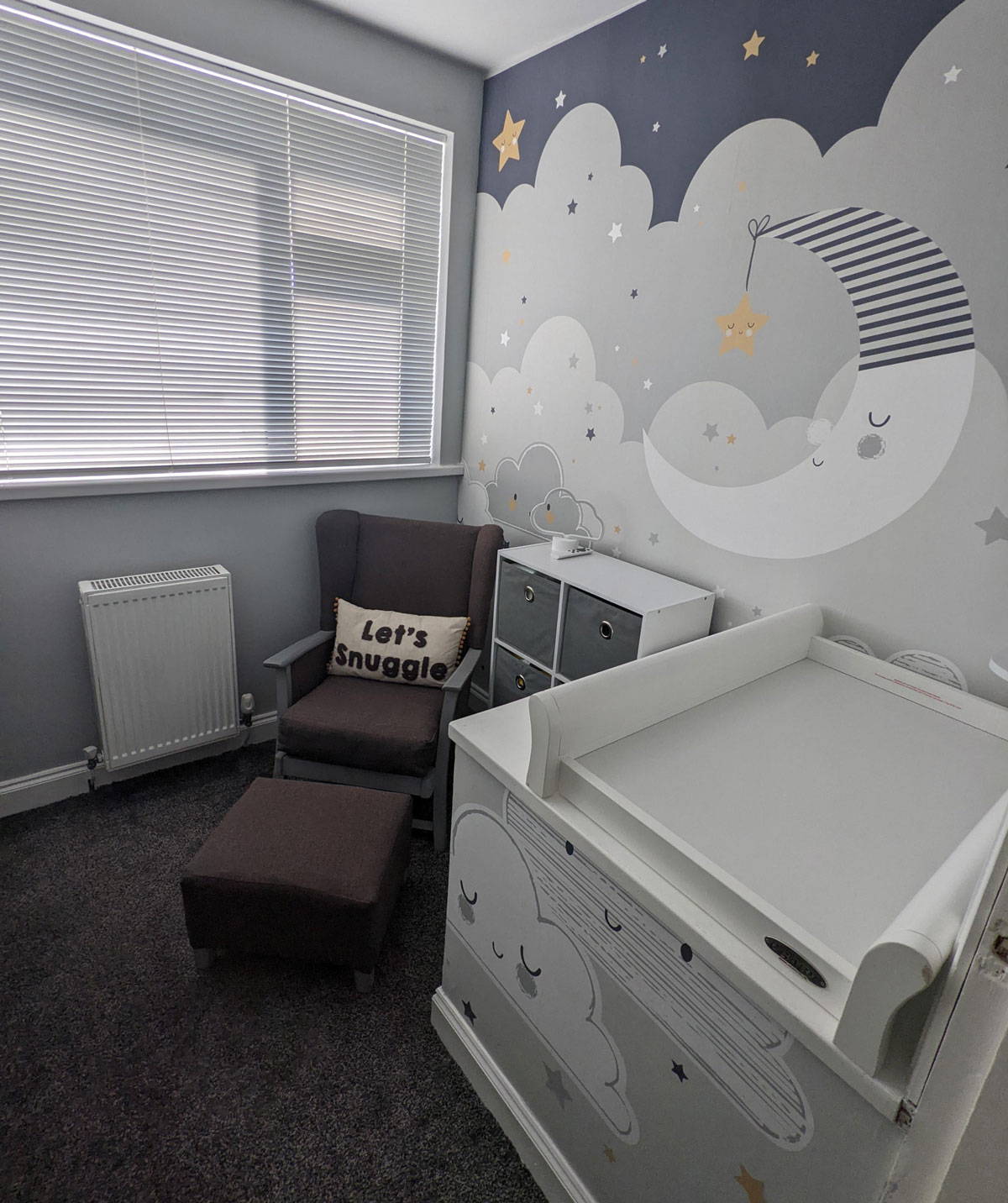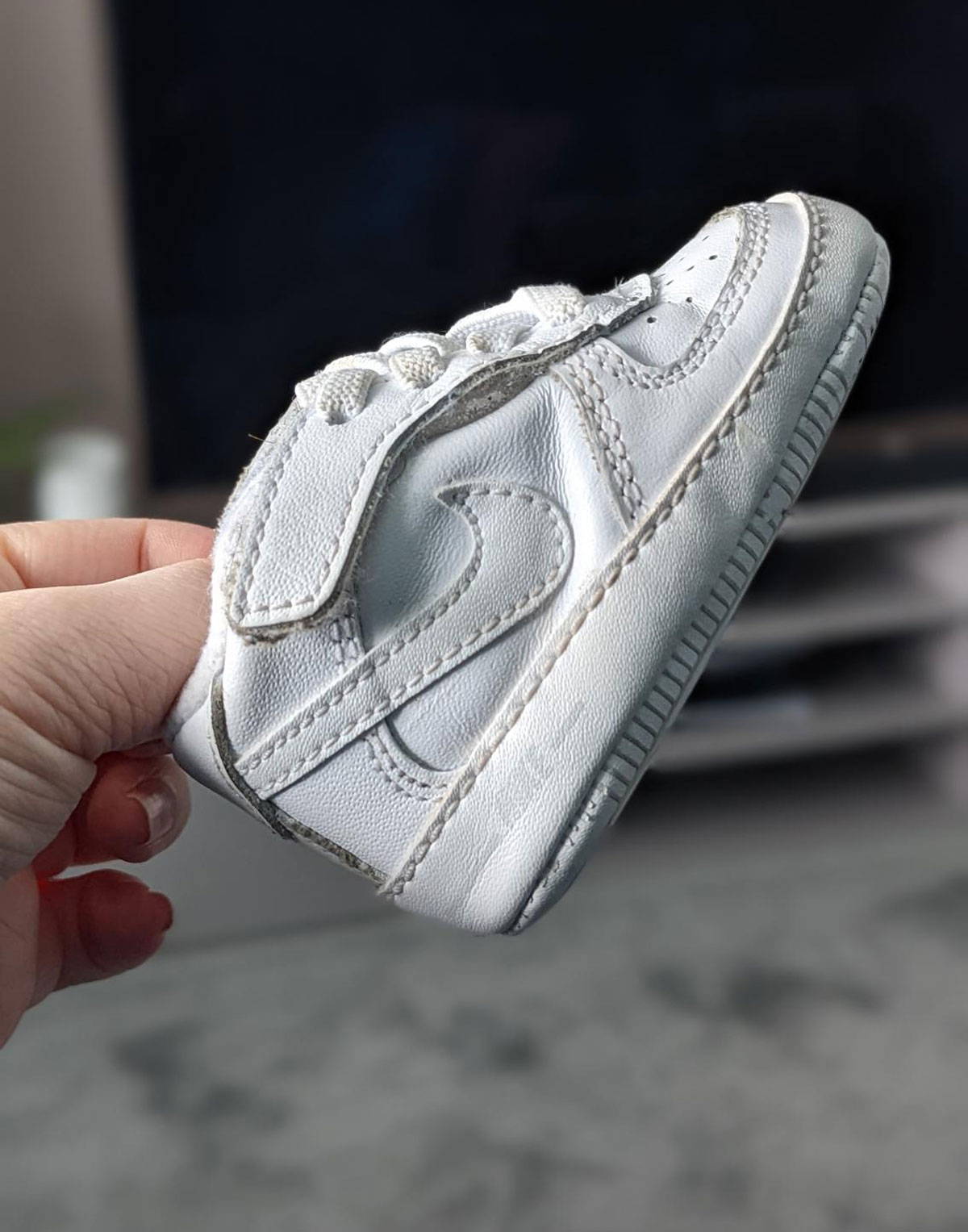 What are your top 5 tips for buying/sourcing the baby essentials?
1. Come up with a list of items you want to buy new - think safety elements like sleeping, transport etc. Then make a list of what items you're happy to get Preloved. You can also make a list of items that might be good to receive as gifts because people will inevitably ask what you want or need.
2. Local buy and sell groups, Facebook Marketplace and selling sites like Vinted and eBay can be amazing for bargain finds. I found a feeding chair and stool for free on a local Wastesavers group, a like new Perfect Prep machine with a brand-new filter for £25 from Facebook Marketplace and even a pair of baby Nike Airforce Ones for £2 at a local baby sale.
3. Do a bit of DIY or upcycling! Of course, that might not be ideal whilst pregnant but your partner, friends and family might be able to lend a hand. You don't have to go all out either, a quick lick of paint can freshen a room or revamp a piece of furniture. A simple grey, white or magnolia is a great and neutral base. They are also paint colours that most people have half tins of sitting in the garage so see if you can use some leftover paint to create a calm nursery space.
4. Keep it simple - we haven't got a cot yet due to a small sized room. For now, we have a feeding chair that we got for free and we'll get a Preloved cot and a new mattress when our baby is around 5 months old.
5. Claim lots of freebies and samples. Emma's Diary, Bounty, Boots Parenting Club and the Amazon wish list freebie are all brilliant ones I claimed. I had everything from free wipes, nappies, bottles, dummies, creams, breast pads, sanitizer, laundry powder samples, coupons and more! Do watch out for some that are just looking to gain your details though. Before signing up to anything I recommend doing a quick Google search to check the company is legitimate and the offers are as good as advertised.
Are you happy to share how much your baby's nursery has cost to create?
Our whole nursery has come in at around £120 so far. I feel like we have achieved the look of a lovely nursery on a budget because we ignored the usual hype of must have buys. Instead of buying matching furniture and going mad on accessories, we decorated it ourselves using a range of preloved, repurposed and free items with the odd brand-new item where needed.
We put down our own carpet which was an offcut we got for free. We also had some key items from a local Wastesavers group like our feeding chair and a cot top changer. The changer was used on top of the bulkhead in the room to make a changing unit out of an otherwise useless space. Items I bought new were bought using additional deals like cashback or vouchers. I bought a bundle of preloved accessories from Vinted, that included curtains, decorations, cot sheets and even a toddler duvet that matches the mural wall so we're ready for the next stages too.
We still need to buy a cot which we will hopefully pick up second hand and we will buy a new mattress to go in it for safety reasons. That will likely take our spend up to £200-£250 which I think for the room we have achieved is amazing!
What are your top 5 cost-saving maternity hacks?
1. A hair bobble and a long vest tucked into pants makes a great waist extender.
2. If you have got an old faithful bra that is getting a bit uncomfortable, remove the underwire for a more comfortable fit. You can also get a bra extender to make the back fit better to get more wear out of your bras.
3. Don't just buy maternity clothing, rummage in the charity shops for blouses, tops and dresses that will accommodate a bump comfortably. The bonus is that those items will also be wearable after the baby arrives. Empire waistlines, smock tops, oversized shirts, stretch material are all ideal as well as going up a size or two…
4. You don't need to buy all the fancy pregnancy bump creams and masks. In the peak of summer, I used a basic sheet face mask that I popped into the fridge for a few minutes before applying to my bump. You can do the same with a basic skin moisturiser too!
5. Buy a basic maternity maxi dress in one block colour and wear your current t-shirts/blouses over the top. I bought a black maternity maxi dress on Vinted for £5 and then wore it with a range of tops which I tied up or fastened with a bobble above my bump. It not only looked cute but it meant I had multiple looks, was comfortable and I was using tops I already owned.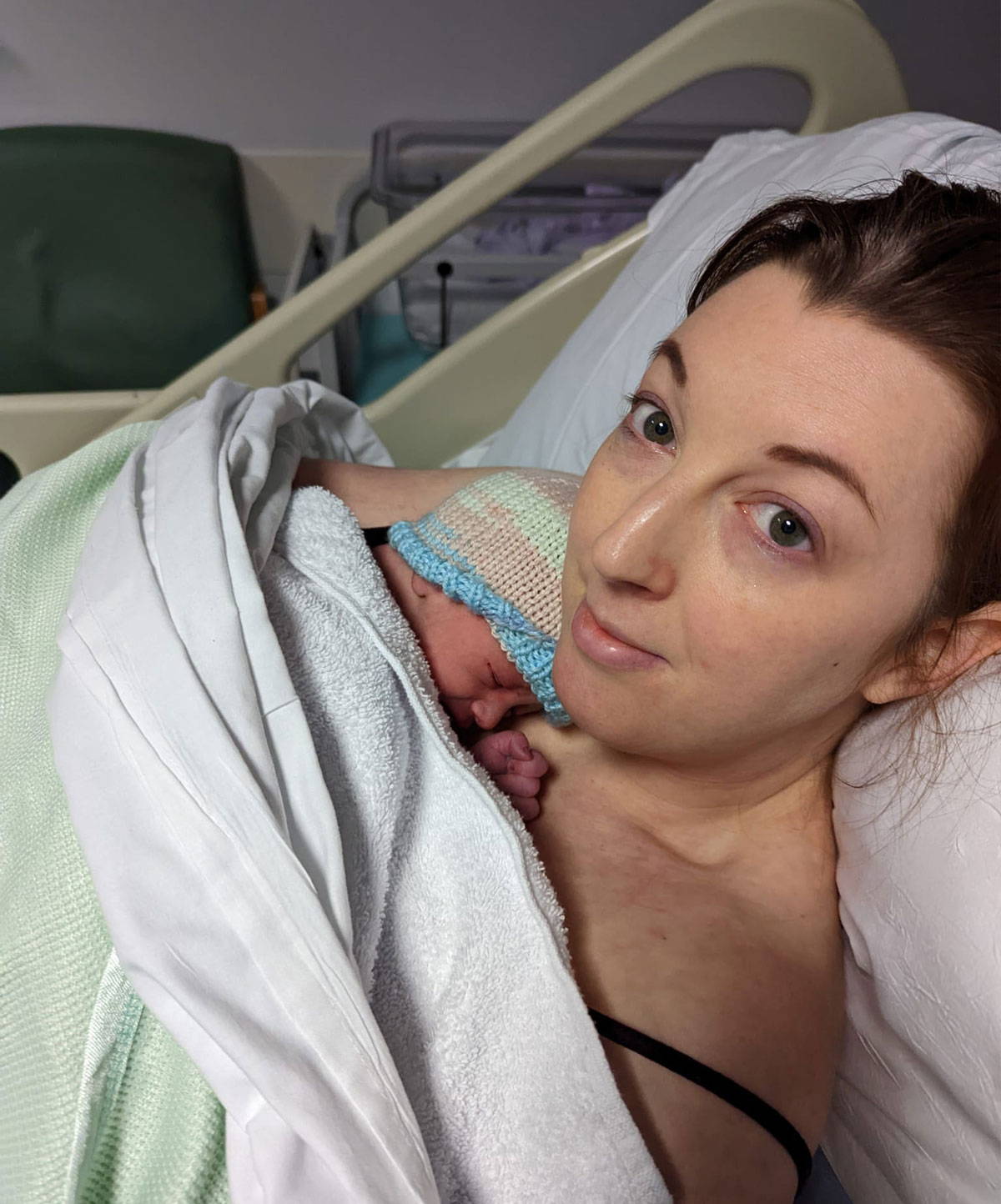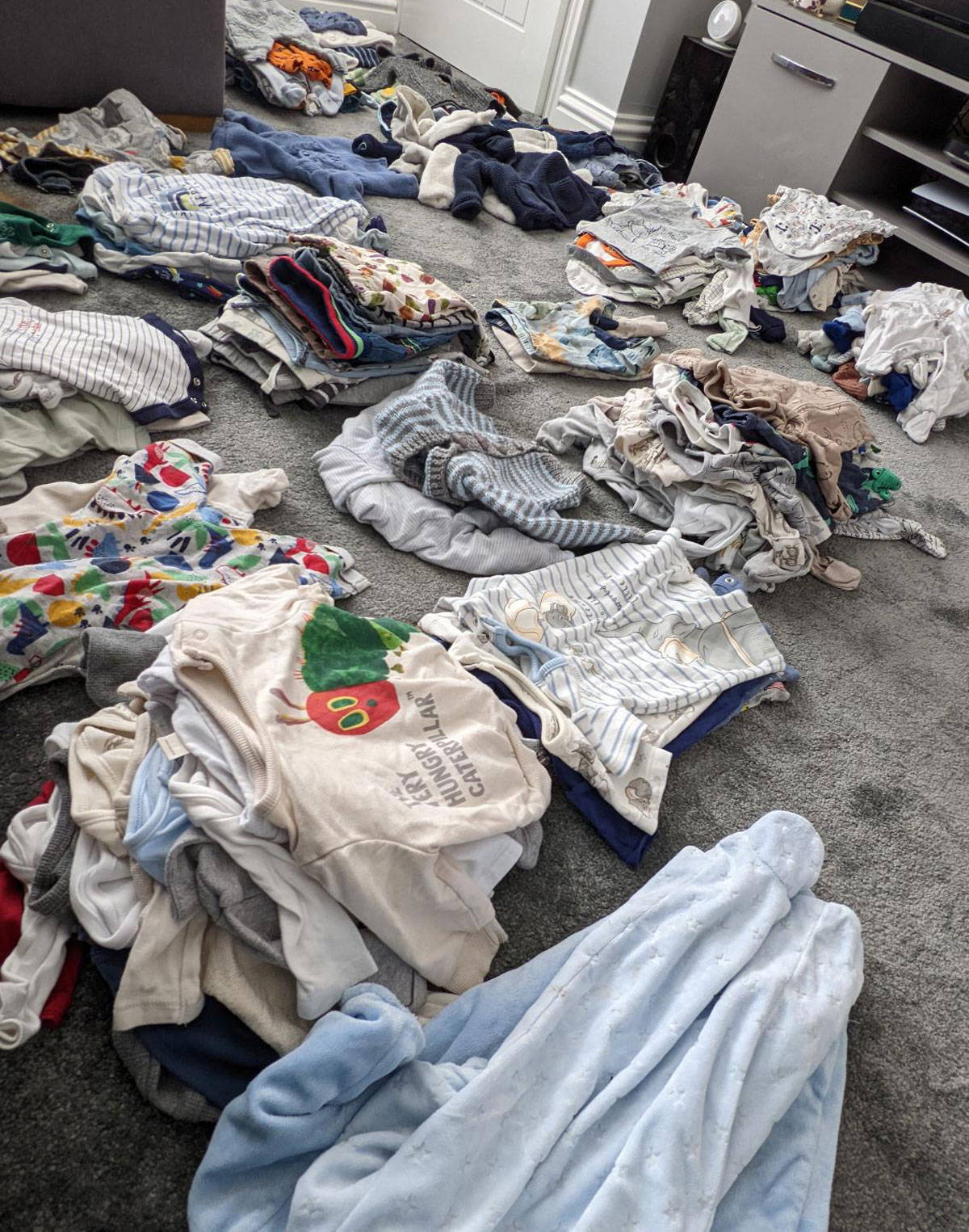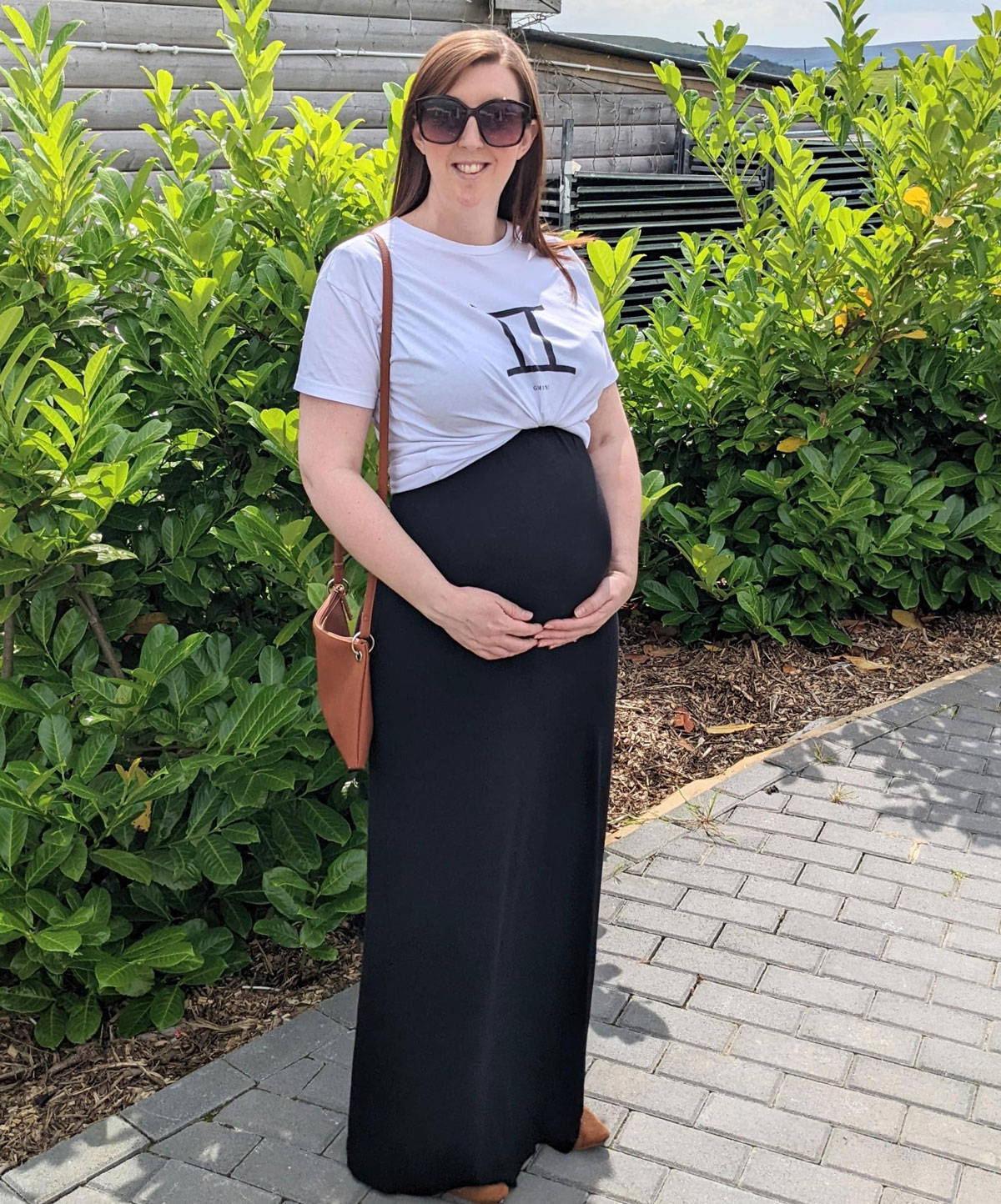 Are there any other words of wisdom you'd like to share?
Ignore the hype of all the 'Must Haves'. You absolutely do not need to buy every gadget and gizmo. Speak to people who have had babies and see what products they rated and what they bought that they ended up not using.
Some hospitals aren't doing antenatal classes at the moment so check your local area for alternatives. Some will be paid courses like NCT, which we did. We personally found that it was amazing value for money and we got to make some new friends in our local area. There are also lots of free online parenting classes too though these aren't as good for making connections with other parents to be.
Get your hospital bag ready ahead of time, I started putting mine together at 34 weeks pregnant. I used some extra-large zip lock bags to arrange different sections so it was easy for my partner to locate items I needed. During the last week of my pregnancy, I was back and forth to the hospital and that bag came with me each time. Having it ready to go took the pressure off, especially when I unexpectedly went into labour at 37 weeks pregnant.
Finally, do what works for you because what one person recommends another will say is no good. You'll get a tonne of well-meaning but unsolicited advice; I found the best way to deal with that was to say, "thanks, we already have a plan for that but I will keep your suggestion in mind".
Brilliant, thanks so much, Clair!
For more great money saving advice, look out for our Boss Your Baby Budget blogs, it brings together affordable products, easy payment options, budgeting advice and much more! And don't forget to follow Clair on Instagram for lots of tips and trips to help you live a thrifty life.