Conceiving After Chemotherapy
Interview with Emily Robson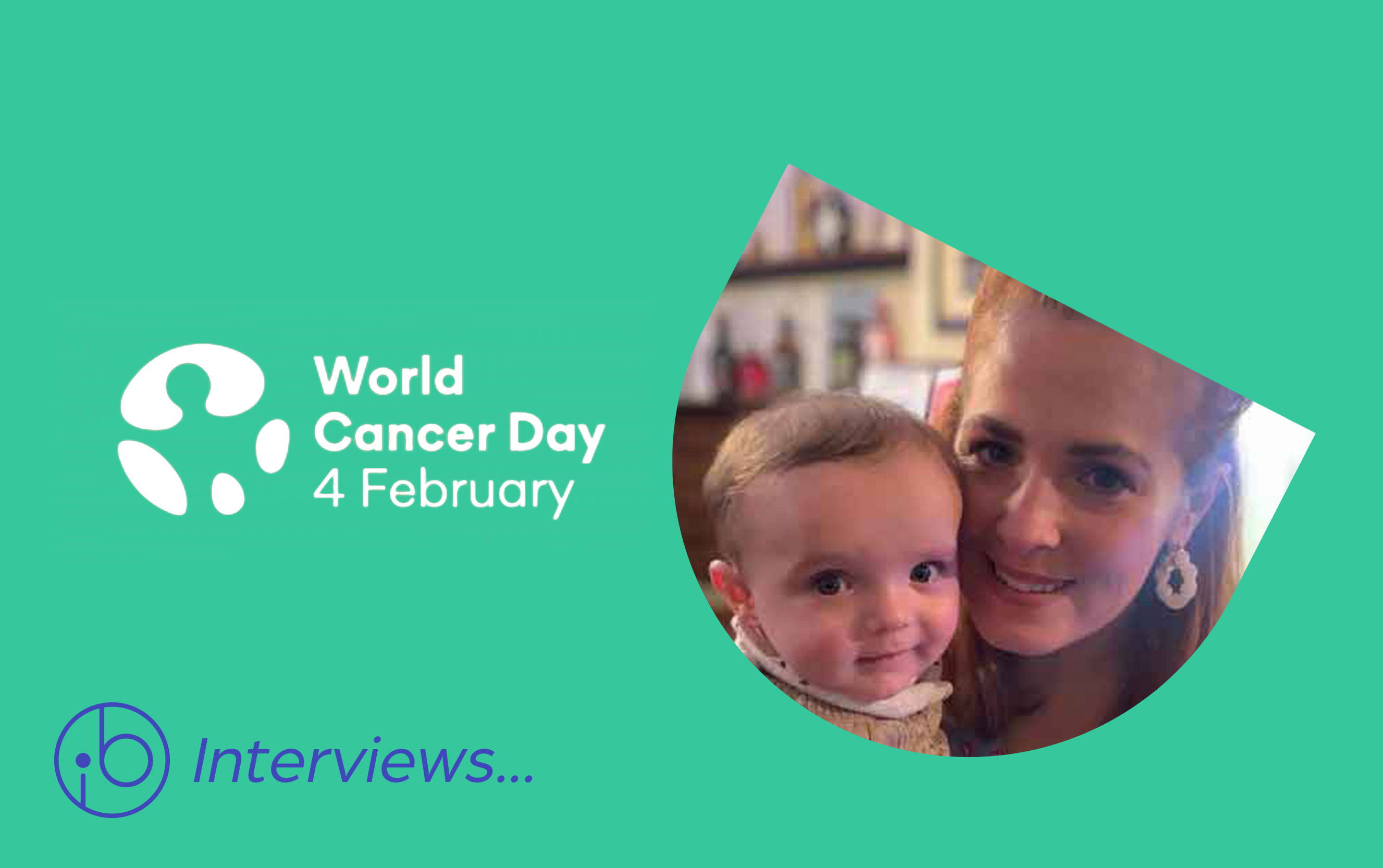 Content warning: Given the nature of this article, please be aware that we tackle some difficult subjects.
New mum Emily was diagnosed with breast cancer in January 2019. As a busy and carefree 31 year old, she had never checked her boobs for lumps and bumps until she listened to a podcast featuring the founder of CoppaFeel!, Kris Hallenga. That same evening, she decided to cop-a-feel of her own boobs in the shower and discovered a lump which turned out to be cancerous.
After countless scans, tests, needle prodding (in Emily's words) and even a round of IVF, she embarked on her treatment that included chemotherapy, immunotherapy, surgery and finally, radiotherapy. Now 34, Emily is cancer-free, runs a successful interior design business and has recently welcomed her beautiful baby boy, Beck, into the world.
To mark World Cancer Day, we caught up with Emily to chat through her experience of being diagnosed with cancer; her treatment and the prospect of being left infertile. We hope that by sharing Emily's story, we encourage others to not only check their boobs, pecs or chest but to also take comfort in hearing the journey she went on and where it's taken her today.
Watch the video or read the interview transcript below...
Can you talk us through your diagnosis and how you felt not only to be facing the prospect of chemotherapy but also prepare for possible side effects of your treatment?
I found out I had cancer only a few days after returning from my honeymoon. Me and my husband had just got married, we then went on a lovely honeymoon which was difficult as I had to try and put the prospect of having cancer to the back of my mind. I managed to enjoy it as much as I could but then unfortunately when I got back, I went into the hospital room to be told, yes, your lump is cancerous.
My world felt like it completely shattered. It felt like I was in a dream, like this wasn't real life. It felt like this shouldn't be happening, this wasn't the life plan I imagined. We would've probably started trying for babies around the time I got diagnosed, six months after getting married.
I vividly remember in that appointment us asking, what happens next with my treatment, what do I need to do? The doctor explained that I needed to start chemotherapy as soon as possible. I think it was when I heard that word that I broke down. I thought, chemo, that comes with so many different things. That could affect my fertility. What happens now? Does this mean I won't be able to have children? A million things were shooting through my head at that moment. It was a very scary time.
How did you find the IVF process?
To be honest, I was quite naïve to the IVF process before I was given the choice and opportunity to do it. I didn't really know what was involved. From the moment of being diagnosed, you're kind of put on a conveyor belt being told, this is what's going to happen and you just go along with it.
The IVF process is definitely challenging and it's hard. I knew I'd love it to work but my main focus was, I need to get this done in this short window of time so that then I can start my treatment and get rid of the cancer in my body. The IVF being successful felt like a bonus at that time because I was focussing on the next step of my treatment, I was in a different headspace to a lot of other people who go through it.
What exactly was involved in the process from being diagnosed to freezing your embryos?
Once we met our oncologist we discussed that I was a young lady and the fact that at 31 years old, I'd just got married and having children was something me and my husband definitely wanted in life. Because the cancer I had was quite an aggressive type, my oncologist said, I'm giving you two weeks to do IVF and if your periods don't match up to that timescale then unfortunately you can't have it because the cancer is growing by the minute and could start spreading.
Luckily, my periods did work out and so I was able to start IVF. We got straight in there. It involved taking two hormone injections a day within 7-10 days. Within that period, I went into hospital a few times for an internal examination where they check if any eggs have been collected in your ovaries and to also check your womb lining. When they saw that my eggs were ready to collect, my husband had to come in and do his thing and then after that, they put the sperm and the egg together to see if any fertilised.
We ended up with 5 blastocysts which are fertilised embryos so they're currently in the freezer at St Barts Hospital, should we need to use these in the future.
How did you deal with the uncertainty of your recovery and the lasting side effects?
I never let my head go to the worst place. It never entered my head that I could die. I'm thankful that I have the best family and friends. If it weren't for them, I would definitely have struggled a lot more.
I know it's very cliché and easier said than done but I just tried to take everything week by week. I had chemo and immunotherapy once a week, every week for 6 months. If I was feeling more tired or sick that week then I'd allow myself more rest. When I was first diagnosed I remember being told it's usually a year of your life that's going to be awful and then after that, hopefully you can start living your life again. So I thought, right – 6 months to a year, it's going to be hell, it's going to be awful but it was almost like a project that I just needed to get through.
I just tried to remain as positive as possible throughout. Obviously there are times where you feel so rubbish that you think, this is awful, how am I going to get through this? I don't want to have another treatment as it knocks you out but then something positive will happen like a scan that shows the tumour is shrinking, that will then lift you up.
Your treatment was a success and you were given the all-clear in July 2019. What advice were you given about trying for babies from this point?
Being given the all-clear that July was the best news ever. I had finished chemo but I was still booked in for a double mastectomy and reconstructive surgery as a preventative measure, to reduce the possibility of the cancer returning. My oncologist advised that I needed to allow my body a year for everything it had been through to recover before trying for children.
Once the time was right, how did you feel about getting pregnant?
I was a bit apprehensive to find out whether my fertility had been affected by my treatment while we were trying but in regards to the prospect of getting pregnant, this wasn't as much of a concern for me. I know that some cancers are hormone stimulated which can be a big scare factor for the cancer coming back but my cancer wasn't triggered by hormones. Also, because I had a double mastectomy, my chances of getting breast cancer again have significantly dropped. They're now lower than the average person as 95% of my breast tissue has now gone.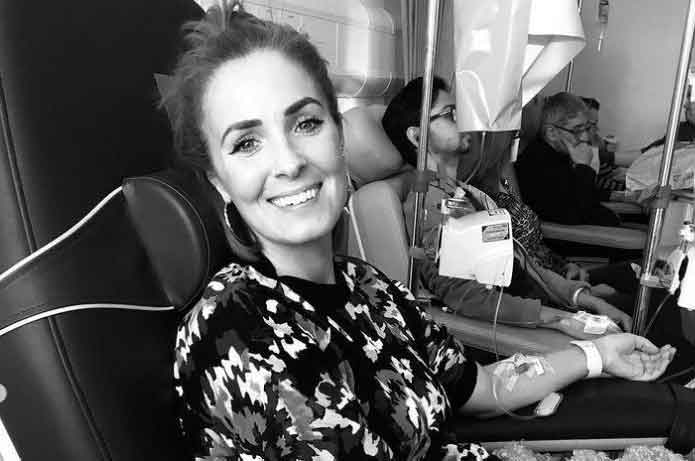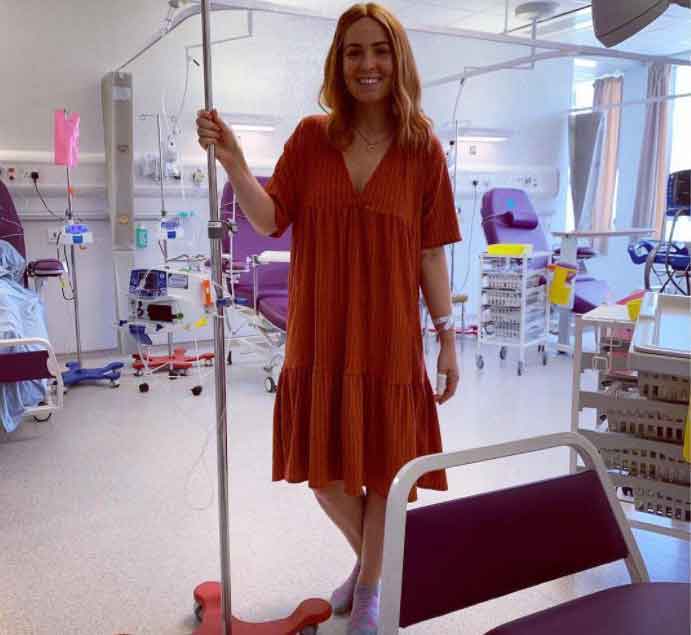 You conceived naturally after a short period of time, which is amazing. Was there anything from your cancer treatment that had a wider impact on your pregnancy?
We managed to conceive naturally, fairly quickly, which we were so grateful for. Whilst I was pregnant I was under consultancy care, given my cancer background and the fact that my immunotherapy actually destroyed my thyroid function. They kept a close eye on that as when I first got pregnant, it really fell, so I had to increase my medication that controls that. Chemotherapy can also affect your heart so I had a few heart scans just to make sure that everything was okay and to check if my heart was strong enough for natural labour. It turned out it was but I ended up having a C-section because baby was breach for ages and would not turn around. Apart from that I had a fairly normal pregnancy. I had a little bit of sickness, a sweet tooth throughout, craving Haribo all of the time, but I felt comfort from being monitored more closely due to my health background.
You now have a beautiful and healthy six-month old, would you like more babies and if so, what would the process be if you found getting pregnant second-time around a little trickier? Would the frozen embryos still be available to you?
Yes, we would love to have another child if we're lucky enough to do so but if we did struggle the next time around to conceive naturally, we do still have the 5 blastocysts in the hospital freezer, which we can have access to whenever we want for as long as we choose.
What would your advice be to other women who've recently been diagnosed with cancer or for those going through treatment that are worried about getting pregnant in the future?
The advice I would give to anyone who finds themselves in my situation, who've recently been diagnosed and maybe not started their family yet is: do research. Say to your oncologist, I'd love children, what are my options? Can I have IVF?
I also had an injection every month in my stomach to help protect my ovaries. Obviously it's not 100% guaranteed to work but there is much more of a chance of protecting your ovaries if you have this. The only downside to this is that it temporarily shuts down your ovaries so your body thinks you're going through the menopause. On top of the chemo side effects, you can get hot flushes, headaches, night sweats.
And I would just say, talk. Talk, talk, talk. If you don't want to talk to the people you're closest to because you don't want them to know how scared you might be, I connected with loads of women, a similar age to me and going through the same thing, that really helped. Just following other people's journeys to see I wasn't on my own and to know, it's not just me going through this.
No question is stupid. If anything pops in your head at all, either ask your oncologist or ask someone you connect with on social media. And finally, two words – positive thinking.
Thanks, Emily! We know your openness and honesty will go a long way to helping others in a similar situation.