Understanding prams, pushchairs & everything else...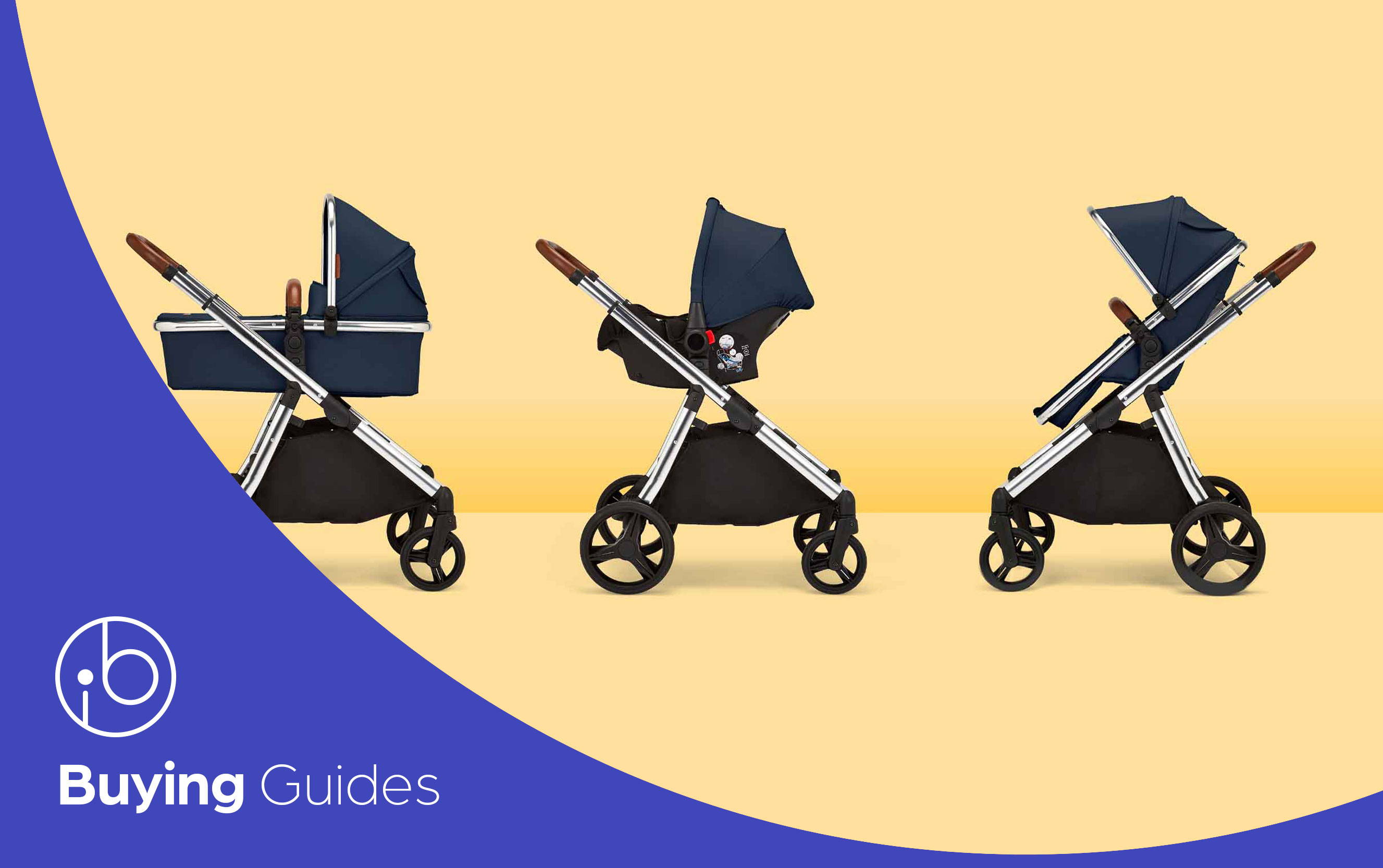 As an expectant parent, the world of baby strollers, pushchairs and travel systems may seem a little perplexing. But it doesn't have to be. Our handy guide sorts your prams from your pushchairs, to help you figure out exactly what you need for your new arrival.
Travel systems, prams & pushchairs | The basics
First thing's first, let's cover some of the fundamentals it helps to know before you start pushchair shopping.
What are the main ways to transport baby?

There are lots of different options when it comes from taking baby from A to B. These include:
Prams
Pushchairs
Buggies
Strollers
Car Seats
Travel systems
What's the difference between a pram and a pushchair?
A pram is a mode of transport that is best suited to the first six months of baby's life. Baby lies in a bassinet or carrycot, which has high sides, a large hood, a protective apron over the top, and a flat, cushioned mattress. It ensures they can sleep comfortably while on the go without being open to the elements or restricted by safety harnesses.
A pushchair does not use a mattress, instead it has a seat unit and safety harness so your child can be secured but still sit comfortably. The seat can lay flat like a carrycot but can also be adjusted to sit upright or at various recline positions. It's more open though still features a protective hood. The seat unit can be turned to face forward or reversed, so baby can look at their parents.
Our Stomp Luxe Pram can be converted into a pushchair once baby turns six months.
What is the different between a buggy and a stroller?
Both terms refer to the same thing – usually a lightweight, compact pushchair that is ideally suited to an older child (3 years+). Some strollers are suitable from birth or can be adapted with an additional newborn insert.
Many parents choose to upgrade their pushchair or travel system to a stroller when their child is old enough to walk short distances but still gets tired easily. Strollers are also useful if you're planning to go away – light and compact, they can fit in car boots more easily as well as be more suited to overhead storage compartments and luggage racks.
Our Globe stroller is lightweight and compact, perfect for downsizing or taking abroad.
What is a travel system?
A travel system refers to a pushchair that allows you to remove the seat unit and replace it with a car seat. This means you can move baby from your car to the pushchair chassis without having to unclip them from their car seat – it's ideal for saving time and effort if you're in and out of the car a lot.
Most pushchairs are available as travel systems, meaning they can be purchased with a compatible car seat – though some require additional adaptors which may be sold separately.
For example, our Stomp Luxe pushchair is also available as an All-in-One Travel System which includes a car seat.
When do I need a car seat?
As the name suggests, car seats are used if you're taking baby anywhere in a car. They are required by law, and you are expected to have a car seat to bring baby home from the hospital.
There are lots of different car seat types, but initially, you will need a Group 0 car seat – this is a seat that is suitable from birth to around 12 months. As baby grows, you will need to upgrade your seat to one that suits older, and bigger, children. Some car seats go as far 12 years old.
Most car seats are secured to the car by seatbelts, but it is becoming increasingly common to use ISOFIX. This is a system of anchor points in your car that allow the car seat to be fitted more securely than with seatbelts. Usually, the car seat clips into an ISOFIX base, which is then secured to the car chassis. You can clip your car seat in and out, without having to remove the base.
Make sure to check your car has ISOFIX – many older models don't.
Shopping for travel systems | What do I need to know?
Shopping for travel systems | What do I need to know?
So, now you know the basics, you can start looking for the travel system that's right for you.
Why should I buy a travel system?
If you're the sort of person that uses your car a lot and you expect to carry on doing that when baby is here (so most of us, then), you might want to consider a travel system. As with most essential items for baby, travel systems really do make things easier. You can take baby's car seat out of the car and clip it straight onto your pushchair chassis.
In the early months, as baby (hopefully) sleeps a lot, a travel system means you don't have to wake them every time you need to get them into the pushchair. You can just clip the whole car seat onto the pushchair frame in one go.
Do I need a travel system?
If you're planning on purchasing a pushchair and a car seat, then the best thing you can do is purchase a travel system, as this combines both items in one go. By purchasing them together, you can make sure your car seat is compatible with your pushchair.
In many cases, you need additional adaptors to make sure the car seat can fix to your pushchair chassis – these usually come included with travel system purchases.
Travel system bundles
The best thing you can do is look out for travel system bundles. This is where you can get all the items you need for your travel system, plus some additional accessories, in one purchase.
At Ickle Bubba, we have a choice of pushchair and travel system bundles available. These are:
Pushchair and carrycot bundle
Pushchair, carrycot and car seat bundle
Pushchair, carrycot, car seat and ISOFIX base bundle
Pushchair and carrycot bundle
If you're the sort of person who doesn't drive, and only needs a pushchair for walking and shopping, then the pushchair and carrycot bundle is the best option. It means you can keep baby in a snug carrycot for the first six months and then swap it out for the pushchair seat unit as they grow.

For example: Our Stomp Luxe 2 in 1 Pushchair Bundle
Pushchair, carrycot, and car seat bundle
This is your standard travel system bundle – the pushchair and carrycot come as standard, but it also includes a compatible car seat. The car seat is Group 0, so it's perfect for the first year of baby's life.
For example: Our Stomp Urban 3 in 1 Travel System Bundle
Pushchair, carrycot, car seat and ISOFIX base bundle
The complete travel system bundle gives you everything you could possibly need. It includes the pushchair, carrycot, and car seat, but also includes an additional ISOFIX car seat base. As we explained before, an ISOFIX base is the safest way to secure the seat to the car chassis, so this is an invaluable option if your car is ISOFIX compatible.
For example: Our Stomp Luxe All in One i-Size Travel System
What accessories do I need for my travel system?
That really depends on what sort of journeys you expect to be making, but there are lots of handy travel accessories it's useful to have. Footmuffs and seat liners keep little ones cosy and comfortable, especially as the weather changes. Pram clips allow you to store some extra shopping on your pushchair and there are even pram mitts and muffs to keep parents hands toasty in winter.
Hopefully after reading this, you can tell your travel systems from your strollers. But if you need any more assistance, don't forget, we're always here if you need anything. All you need to do is contact us. Happy shopping and we hope you find your perfect travel companion.
Take a look at our travel systems to find out more about the Ickle Bubba range.